Eat Local, McDowell!
Find this article at:
go.ncsu.edu/readext?793400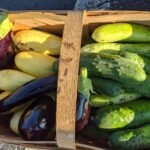 I can see it. There is light at the end of the tunnel. Last year, at this time, grocery stores were having a hard time keeping up with demand. How many of you saw empty shelves when you shopped? I know I did. As a consumer, I realized just how important our local food system is. I hope you did too.
The USDA recognizes that consumer demand for local food has been growing in recent years. It's important that we as a community support local food efforts. The first step is being committed to buying local food from our local producers. You can start with allocating a certain amount of your food budget to buying locally. Ten percent is a good amount. If you spend $100 a week on food purchases, you will commit to spending $10 on local food purchases. Not a whole lot. Not a big commitment. BUT those $10 will go into the pocket of a local farmer who will spend that $10 purchasing items for his farm, buying clothes for his children, paying his lease rates and/or mortgage payments, and paying taxes (local, state, and federal). You are supporting your neighbor make an honest living, but also supporting our local and state economy! And by golly, we all need to eat.
You have power as a consumer. In addition to allocating a percentage of your food budget to local food, you can support food businesses that buy local food. Food businesses can also allocate a budget for local food purchases. Food businesses can have "specials" featuring local ingredients. I really enjoy visiting restaurants that are transparent with their local food purchasing. They often have signage with the farms that they source from. Don't be fooled just because the food business says "local."  Ask questions.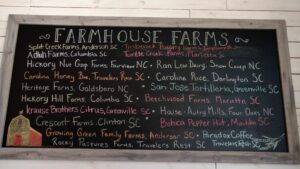 Here are just a few more benefits of buying local food:
Local food is fresher. Local food spends less time in transit.
Local food helps to maintain our greenspace. I love my greenspace. I think you do too, or you wouldn't be living here.
Local food supports the local economy.
Local growers can tell you how their food was grown.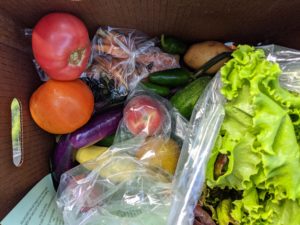 There are several options to buying local this season:
Visit NC Farms is a smartphone app that you can use to find local food or enjoy an agritourism experience. Visit NC Farms is available for Apple and Android. If there are other options for buying local food, please share with our office, and they will be included with this list.
You can use this N.C. Department of Agriculture and Consumer Services guide called What's in Season that explains the availability of North Carolina fruits and vegetables.
Feel free to share your local food purchases on your social media and highlight the farms and farmers that grew your food. Use the hashtags #EatLocalMcDowell #McDowellLocalFood. Support your local farmers now and ensure your food security for the future.