Cage Construction
Cages for fish culture have been constructed from a variety of materials and in practically every shape and size. Cages also can be purchased from companies that sell aquaculture supplies. You can save some money if you construct the cage on your own. The two most important things to remember is:
Cages should be made of sturdy materials. The cage materials should be strong,durable, and non­toxic.
The cage (mesh size) must be able to retain the fish, yet allow maximum circulation of water through the cage. It is best to select the largest mesh possible that will retain your fish. Adequate water circulation brings oxygen into the cage while washing wastes away.
Cage Materials
The frame of the cage can be constructed from wood, iron, steel, aluminum, fiberglass, or PVC. Frames of wood, iron, or steel (unless galvanized) must be coated with a non­toxic, water resistant substance to prevent rotting. The frame serves as a place to attach the netting.
The netting material can be plastic coated welded wire, galvanized wire, solid plastic mesh, or nylon netting. The advantage of a hard cage is predator exclusion. It excludes predators like turtles, otters, and birds. However, the hard cage is difficult to maneuver, harvest, transport, and store. Soft cages are easy to transport and harvest. However predators like minks, otters, and snapping turtles may be able to chew through the soft cages.
Cage Materials
Frame
Plastic mesh or netting
Feeding ring
Lid
Flotation
A feeding ring is used to prevent floating fish food from passing through the cage. It can be constructed of smaller mesh netting (1/8 or 3/16″). The feed ring should extend approximately 6″ below the surface.
The lid for the cage can be constructed from the same type of netting as the rest of the cage. The advantage of constructing the lid from netting is that feeding is made easier because the feed is thrown directly into the cage without removing the lid.
Flotation is necessary to maintain the top of the cage just above the water surface. Flotation can be provided by styrofoam, waterproofed foam rubber, or sturdy plastic jugs. Milk jugs tend to break down due to prolonged exposure to sunlight. The frame when constructed of polyethylene or PVC pipe will provide adequate flotation.
Below are photos of a cage being built.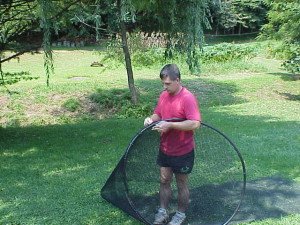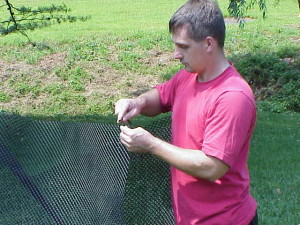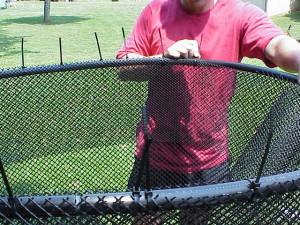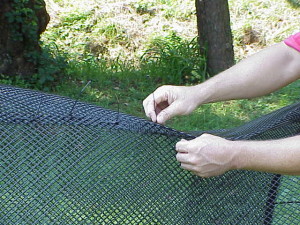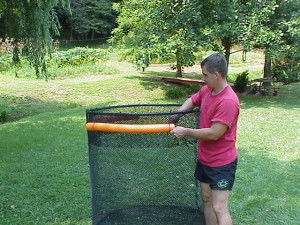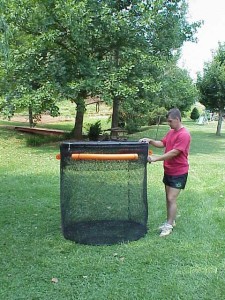 By: Molly Sandfoss, Area Specialized Agent – Aquaculture
Last Updated: August, 2003
Was the information on this page helpful?