4-H Mini Gardening Project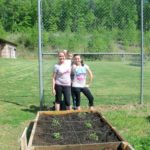 We are excited to be offering the 4-H Mini Gardening Project this year! McDowell County 4-H is partnering with McDowell County Extension Master Gardener Volunteers to offer the 4-H Mini Gardening Project. Anyone from ages 5 to 19 is eligible to participate. This is an opportunity to "dig in" and have fun with your own vegetable  or flower garden while learning through input provided by Extension Master Gardeners. The Extension Master Gardeners will visit your garden during the summer and provide you with information and suggestions for helping you grow a successful home garden (flower, vegetable, or herb). This opportunity is open to ANY of our 4-H families. We welcome all kinds of gardens: traditional gardens, raised bed gardens, container gardens, and more.
All participants will be required to maintain a mini-garden project record book "garden journal" which will be provided. Participants will submit their record books for judging on September 28. The record book and the overall care of the garden throughout the project will be used to determine overall winners. We will also host a potluck dinner on September 28 for all participants. Each child brings a dish for the dinner using vegetables from his or her garden, Tailgate Market, or local farmer. The winners will be announced and posted at the Extension Master Gardener booth at the Mountain Glory Festival in Marion on Saturday, October 14. Winners will also be recognized at the annual McDowell County Extension Recognition & 4-H Achievement Night in early 2018.
If your family plans to participate and wants plants and seeds that the McDowell County Center will provide, you must sign up by contacting Jane_McDaniel@ncsu.edu or (828) 652-8104 by Friday, May 5. When you sign up, please share with us the type and size of garden you plan to grow. Otherwise, you can participate in the project, but you will need to provide your own plants and seeds. Whether you provide your own plants or the McDowell County Center provide them for you, please sign up so that we can ensure that we visit your garden and include you in on any information later.
We will have a project orientation and pick up of plants and seeds at the McDowell County Center Office, County Administration Building, 60 East Court Street, Marion, 2nd Floor, on Friday, May 12 from 4:00-6:00 p.m.  This is a drop in event. This is also a time to ask questions and learn about gardening. If you have any questions about the 4-H Mini Gardening Project, please contact Molly_Sandfoss@ncsu.edu or (828) 652-8104.